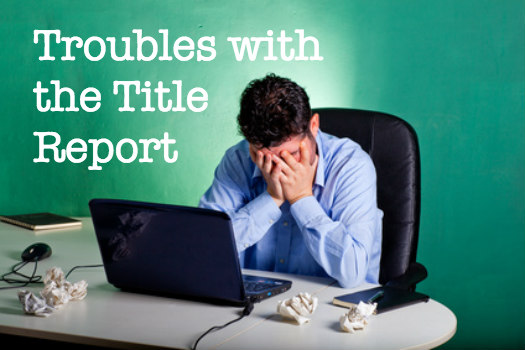 With market changes underway, many agents a scrambling to get lots of listings. After all, if they are selling like hotcakes, then it would be nice to have a bunch, right?
Well, before you take your next listing, it is vital to have a look at the title report (or a preliminary report or property profile obtained from title company.) This preliminary report will reveal the inside scoop on your listing or potential listing and may save you a world of trouble later on in the transaction.
Here are two things that you need to check out on the title report:
Who is the rightful owner of the property?
The rightful owner is named on the title report and this is the individual that is selling the property. This person's name should be on the listing agreement. However, (and here's the wrinkle)… often times the individual named on the Trust Deed is not the individual named on the Grant Deed. Maybe George Washington obtained the loan for Mt. Vernon, and then executed a quitclaim deed and granted the entire estate to Martha. If that's the case, then it is entirely possible that this inconsistency can get in the way of your sale (particularly a short sale).
If you encounter this problem:
Discuss with your broker, your attorney, your escrow or title officer before going further in the transaction. It's easier to get the deal done if the documents are executed correctly from the outset.
How many liens are on the title report? How many are institutional (mortgage loans)?
When you look at the title report, pay attention to the number of liens. Perhaps there are two mortgages and the seller has provided you with information (mortgage statements) on both. But, perhaps there is also an HOA lien or some sort of tax or mechanics lien. Often times, with a short sale, short sale lenders will not permit any of their sale proceeds to be paid towards these non-institutional liens. And, all liens must be reconveyed at closing. Also, for an equity sale, you've got to be sure that there is enough equity to cover all the liens.
If you encounter this problem:
Discuss with the seller. Who is going to pay to have these liens released at closing? It's easier to have this planned out from the beginning in the event that the lender will not pay off the additional liens. After all, if we are talking about short sales, why negotiate a short sale if the deal cannot close?
At Short Sale Expeditor®…
we help you to isolate and identify red flags from the very beginning of the transaction. After all, nobody wants the short sale to fall through at the eleventh hour. Carefully addressing title issues at the very beginning of the transaction will help to avoid that hiccup in the short sale process.