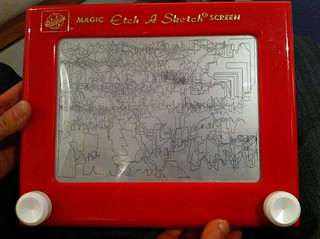 If you've been following the news lately, you've probably heard lots of talk about Skittles, hoodies, and the Etch A Sketch. It was Mitt Romney's campaign aide, Eric Fehrnstrom, who told CNN, "You hit a reset button for the fall campaign. Everything changes. It's almost like an Etch A Sketch. You can kind of shake it up, and we start all over again." And, you probably already know that the Romney campaign took a huge hit for this gaffe.
But, in the field of real estate, it probably isn't so bad to be like an Etch A Sketch. So many things change each and every week that it is often important to alter course or shake it up in order to get things moving.
Here are a few examples:
Loan Programs. From one day to the next, loan qualification and lender guidelines change. For example, recently FHA added a new guideline with respect to qualifying borrowers who have more than $1000 in collection activity. Suddenly, those potential borrowers will need to enter into a repayment plan and cannot buy for 3-4 months. Being aware of changes to loan programs and readjusting your methods in order to address such changes is an important part of an agent's success.
Technology. Laptops and fax machines are so last year. Many agents are working on their tablets, such as the iPad. They make listing presentations and sign contracts all with one little 10-inch long appliance. Are you up to speed with your technology or do you need to shake it up this spring?
Distressed Property Management. As short sale aficionados, we are always monitoring and passing on to you the latest changes to the distressed property industry. For example, have you heard that Bank of America has a new third-party authorization that will be required for all files effective April 14th? Or, do you know about the available principal reduction programs ('cause I bet your clients are gonna be asking)?
That Romney Etch A Sketch comment might have been a big no-no for the presidential campaign, but in the field of real estate, being like an Etch A Sketch might not be such a bad thing.