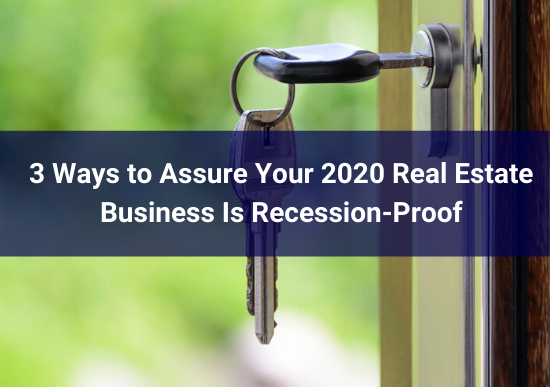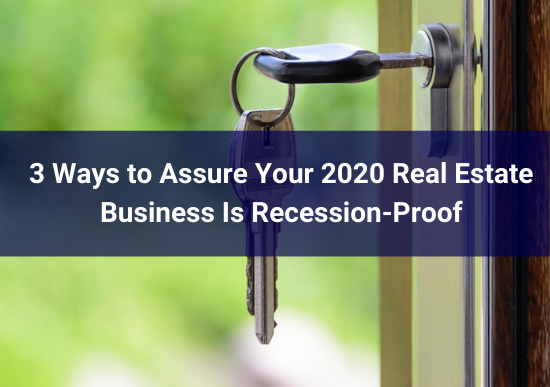 So, you heard that the stock market is doing well this week and the stores all seemed filled this holiday season. That is generally the sign of an excellent and thriving economy… or is it? In the event that the economy takes a dive (not that we want to it), it is important to make your real estate business recession-proof–meaning that no matter the market and no matter the economy, you'll see closing after closing and a continued flow of money coming into your bank account!
3 Ways to Assure Your Real Estate Business Is Recession Proof
Always market for distressed property listings. It is sad to say, but no matter the market there will always be someone that cannot pay his or her mortgage—perhaps due to job loss, hospitalization, or some other unfortunate situation that impedes the ability to make money. As an agent, you should continually market for distressed property listings. Consider obtaining data on borrowers with high loan-to-value and marketing your real estate services to that group in order to be top-of-mind of something in their personal life turns topsy turvy.
Stay top of mind with asset management companies. If you were an agent during the Great Recession, then you probably remember that there were some real estate companies that had loads of foreclosure listings. This is because these brokers (or agents) already had pre-existing relationships (possibly from the previous downturn) with asset managers who had tons of foreclosed properties in their portfolios. If you want to keep the money coming in no matter the market, consider creating relationships with asset management companies so that when things change, you're the first call they make.
Be experienced with divorce and probate transactions. Sounds like gloom and doom, I know. But death and divorce are going to occur no matter the market. Since it is your job to keep the income flowing even if the market goes south, one way to do that is to become a probate and divorce expert. Align with local attorneys who may be able to put you in contact with people who may need your services today.
The real estate agent's job is deeply tied to the economy. And, since the economy can turn on a dime, it is important for you to create a recession-proof business. This article provides you with some food for thought on how you can do just that in 2020.
If you or any agent that you know needs help and support with short sale processing and transaction coordinating and document compliance, feel free to call us!