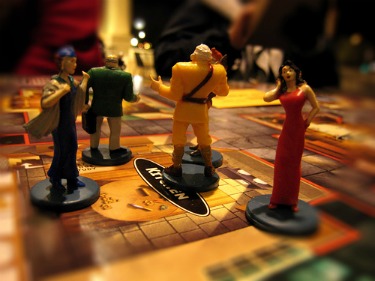 Remember when it was Colonel Mustard in the dining room with the lead pipe? Well, that would be a much smoother and more efficient death than what you might see in the wacky world of short sales.
If a short sale were like a game of Clue (by Hasbro), instead of a lead pipe you could be wiped out by an abstract of judgment, an HOA lien, or even an IRS tax lien. Weapons such as these will get in the way of closing the short sale transaction.
The principal way to avoid being killed by one of these weapons is to order a Statement of Information (SI).  Have the short sale seller complete a statement of information at the beginning of the short sale process, and have your title company run that statement as soon as possible. Certain liens "stick" to the seller and not to the property. Nevertheless, these same liens do need to be cleared (paid off or released) at or before closing. And, not all short sale lien holders are willing to give up their proceeds in order to liquidate these debts.
Abstract of Judgment  If the seller has an abstract of judgment against him (or her), suggest that the seller negotiate for this to be released or settled in order to be able to successfully close the short sale.
HOA Liens There's already been much ado about HOAs as short sale deal killers. In certain parts of California, HOAs are actually foreclosing on the properties and renting them out in the interim. Talk about a deal killer… Work with the HOA to settle the debt at closing.
IRS Tax Liens  It takes several weeks to separate an IRS tax lien from a property being sold in short sale. Wouldn't you like your client to begin working on this early in the short sale process and not after you have short sale approval and are ready to close.
Ordering that statement early and having a good heart-to-heart with your client (especially around Valentine's Day) can go a long way towards a successful short sale closing. Trust me… you do not want Colonel Mustard anywhere near your next short sale listing.