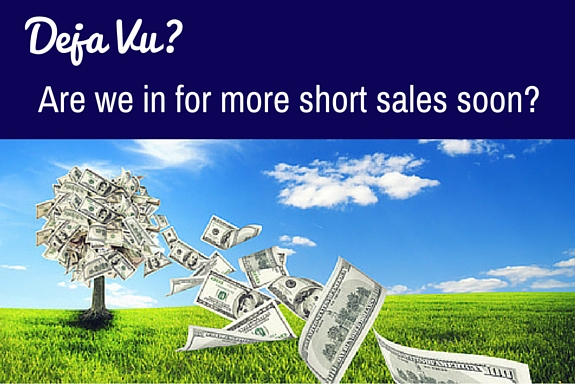 If you haven't seen The Big Short yet, now may be the time. In addition to winning a number of awards this season, it puts Michael Lewis' book into the hands of those that don't really like to read. Not to mention… it attempts to explain the housing market collapse.
In 2009, I wrote the post below, which basically says the same thing as Lewis' story. See what you think…
The Giant Pool of Money
Once upon a time the whole wide world had 36 trillion dollars, and that was all of the money that all the people in the whole world had. The people had been saving for a very, very long time. Insurance companies had money they had saved for catastrophes, like tsunamis and earthquakes. Pension funds contained money saved for retirement. All of the people of the world had managed to save 36 trillion dollars.
That giant pool of money was being watched over very carefully by smart people called investment managers. These managers worked hard day in and day out to make sure that none of the money in this pool was lost. They also worked to make it grow bigger and bigger, so that there would be more money for retirement and for catastrophes. The investment managers made very safe investments and the peoples' money grew slowly and safely.
Then, all of a sudden, the pool of money grew to 70 trillion dollars! Some countries of the world were now selling milk and making new electronics and that made the pool of money grow bigger then ever before. Now the investment mangers had double the money that they had before. They had more money to invest; they had twice as much! So, the investment managers had to find twice as many investments. But, there were not twice as many investments available that were growing slowly and safely. What could the investment managers do? How could they keep all the people whose money was in the giant pool happy?
So, the investment managers began to make large investments in residential mortgage loans. The managers thought that if homeowners were paying 5 or 7% interest on their loans, the giant pool of money could still grow slowly and safely.
For a little while, this investment went well and everyone was happy. But, after awhile, everyone who wanted a residential mortgage loan already had one. Because of this, the giant pool of money was not growing. How could the investment managers make it grow more?
Then, some people had an idea. Since the investors wanted more money and couldn't get good returns from the safe US T-bills that were only paying around 1%, news sorts of creative mortgage products and programs were invented in order to continue to keep the giant pool of money very happy.
New residential mortgage loan programs were available to people who could not get loans before. If there were more loans, there would be more money in the giant pool. The giant pool of money was growing and growing and growing, and property values were rising and rising and rising.
But . . . people were not making any more money then they were before. So, how could they afford houses with values that were rising and rising and rising? The simple answer was that they probably could not.
And then . . . something very bad happened. Property values which had been rising and rising and rising began to fall. And adjustable mortgages on the residential mortgage loans in the giant pool began to adjust. This set off a reverse chain reaction. People began to default on their loans and more and more houses were listed for sale. Since practically everyone in the world had purchased a home, there were no more buyers. So, prices went down further to attract the few buyers that wanted to buy.
Because there were no buyers, the investment managers could not sell the mortgage loans that they had borrowed to obtain. Even worse, smart and savvy investment managers purchased swaps (basically insurance) where they bet billions against the mortgage market.
At the same time, investors had no money coming in because the people could not afford to make loan payments anymore. These investment managers had borrowed tens of millions of dollars to buy loans which now they could not sell. So, the investment managers had no choice but to default on their own loans.
And the story gets sadder and sadder. The people who live in the homes do not want to lose them and the investors do not want to take these homes in foreclosure. All the investors ever wanted was a safe investment for the giant pool of money.
Thoughts in Hindsight (which is always 20/20)
As a result, we found ourselves in the greatest Recession since the Great Depression.
At the end of The Big Short, some words appear on the screen about how a bespoke tranche opportunity is currently available. What is meant by this is that the products that caused the economy to fall are slowly trickling into our market again. Is this an admonition? Are we going to see more short sales and foreclosures moving forward? Beware of the clues and take heed from this story from The Giant Pool of Money.
Nota bene: The idea for this simple summary of the credit crisis of 2008 was taken from an NPR Report entitled "The Giant Pool of Money" featured on This American Life on May 9, 2008.