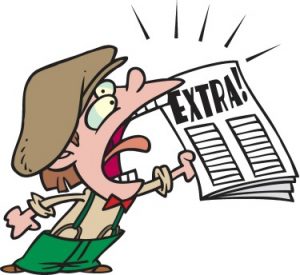 Each and every week, there are things going on that impact housing news and the real estate market. Sometimes there are big changes to federal and state policies that impact the distressed property world. Other weeks, there is business news and distressed property news about government programs for distressed borrowers. Or, there are hot topics that impact real estate agents. As such, it's great to have a weekly housing update.
Weekly Real Estate News for Week Ending November 14, 2014
Read below to learn about some of the interesting housing news and weird stuff that went on this week in the distressed property and real estate agent arena:
Red Flags When Suggesting a Real Estate Agent  If consumers actually took heed of the tips in this article, I think the real estate world would be a better place. What say you?
US Housing Market in the Toilet The good news is that this is a bit of a pun. Check out what MSN has to say about the housing market and toilets…
Another Serious Downturn? Tell me whether you buy this argument or not. I personally buy it, but feel free to tell me I'm wrong. Actually, I'd prefer to be wrong.
How to Create a Red Hot Business Plan Renowned real estate coach, Inman columnist, and real estate guru Bernice Ross will be offering this exclusive webinar to friends of Short Sale Expeditor on Monday, November 17, at 9:00 PST. She'll teach us how to create a red hot business plan. Click here to register.
It's Time to Think About 2015

Not sure whether you've heard the news. But, last year, Short Sale Expeditor® CEO, Melissa Zavala, published a real estate planner entitled The Essential Daily Planner for Real Estate Agents: Success in 10 Minutes a Day. The book has received many accolades. In fact, Shark Tank star and real estate mogul, Barbara Corcoran, had this to say about the book: "This clever book is a business coach and an accountability tool all in less than 250 pages! Read it, use it, and watch your productivity skyrocket!" The planner is available on Amazon. And, if you want to get a head start and amp up for 2015, you may want to check it out!
In any case, there's lots going on in the real estate news arena. And, if you are actively working with 'distressed' borrowers and housing, it's important to keep up with the news and all of the changes in the industry. Sometimes that's hard, which is why we've provided you with a weekly recap of the distressed property news and housing news right here.