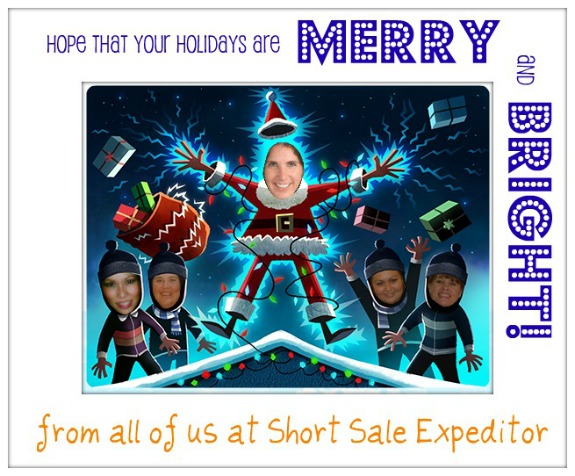 It's Christmas this Sunday, and that is not too wacky. All of us at Short Sale Expeditor want to wish you a very Merry Christmas and all of the best for a healthy, happy, and prosperous 2012!
Our office will be closed on December 26, 2011 and January 2, 2012. (The banks will be closed, too. So, no short sale transactions will be closing those days anyway!) We hope to see or hear from you as you embrace short sales and real estate in 2012. If we can provide any support, please do not hesitate to contact our office.
Here are a few interesting distressed property articles for your Christmas stocking:
What if Clark Griswold Bought and Sold Real Estate? This Bigger Pockets article written by Jeff Logue gives you some food for thought as your approach your real estate business in 2012.
Whose to Blame for the Short Sale Crisis? In this article, Melissa Zavala solves all of the problems associated with the short sale transaction, and she does it in a few short paragraphs (read: sarcasm).
Tips and Tricks for Generating Short Sale Leads This is not a Tony Hawk Trick Tip video. It's concrete info about how and why you should generate short sale leads and work short sales in the coming year.
Happy Holidays!