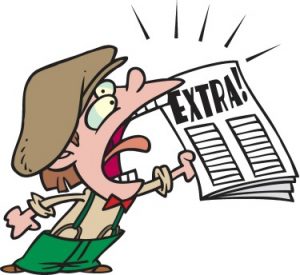 Each and every week, there are things going on that impact housing news and the real estate market. Sometimes there are big changes to federal and state policies that impact the distressed property world. Other weeks, there is business news and distressed property news about government programs for distressed borrowers. Or, there are hot topics that impact real estate agents. As such, it's great to have a weekly housing update.
Weekly Real Estate News for Week Ending October 24, 2014
Read below to learn about some of the interesting housing news and weird stuff that went on this week in the distressed property and real estate agent arena:
Analyst Predicts Price Decline I'm sorry, but I actually do agree with this article. With the increase in homes on the market, we are bound to see some depreciation. Were we in a false bubble?
How Agents Might Behave Without Article 16 At the California Association of Realtors Expo and Conference, I had the privilege of getting to know and listening to super-genius Rob Hahn. You have got to read his article here about some CRAZY stuff that may be going on down the road. What's gonna happen if Article 16 actually goes away? Will you behave ethically?
Finding Listings in Any Market Just came back from California Association of Realtors Expo and Conference where I presented on Finding Listings in Any Market. I've never been so popular as I was the other day. Click on the link to check out the presentation of join us for a live webinar on this topic, next Thursday, October 30th.
It's Time to Think About 2015

Not sure whether you've heard the news. But, last year, Short Sale Expeditor® CEO, Melissa Zavala, published a real estate planner entitled The Essential Daily Planner for Real Estate Agents: Success in 10 Minutes a Day. The book has received many accolades. In fact, Shark Tank star and real estate mogul, Barbara Corcoran, had this to say about the book: "This clever book is a business coach and an accountability tool all in less than 250 pages! Read it, use it, and watch your productivity skyrocket!" The planner is available on Amazon. And, if you want to get a head start and amp up for 2015, you may want to check it out!
In any case, there's lots going on in the real estate news arena. And, if you are actively working with 'distressed' borrowers and housing, it's important to keep up with the news and all of the changes in the industry. Sometimes that's hard, which is why we've provided you with a weekly recap of the distressed property news and housing news right here.