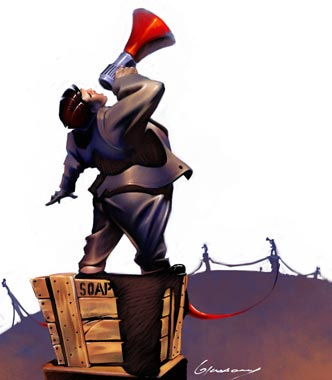 It doesn't matter whether an agent is from Schenectady or San Diego, whenever I take a call from an agent who has some short sale drama, the agent always seems surprised that I am actually taking his (or her) call. Why wouldn't I? Yes, I'm a busy bee. But, that doesn't preclude me from being involved in the day-to-day running of my business.
Sometimes I wonder whether the mucky mucks at the top of the big banks (and even the government) have any involvement whatsoever in the day-to-day activities of their institutions.
I've attended short sale presentations by lending institutions that swear up and down and sideways that they do not allow borrowers who are current on their loans to participate in short sales, yet we close short sales for borrowers who are still current almost every week of the year.
Then, a few weeks back, I had the privilege of listening to a short sale webinar put on by one the biggest servicers. In it, one Vice President talked about HAFA time frames and mentioned that the third party HAFA servicers (like REDC and LBPS) are bound by those HAFA timeframes. I found the whole thing ironic, since anyone who has done a few short sales knows that the HAFA process is a corn maze style labyrinth from which it's almost impossible to find your way out (unless you call 9-1-1).
On its best days, HAFA is a slow process. When mucky mucks tout HAFA as efficient, this shows a real disconnect with the actual day-to-day loss mitigation department activities. That's likely why there have only been approximately 16,000 HAFA completions (and that includes deed-in-lieu of foreclosure). In fact, in California, HAFA is perceived by many as a waste of time since our Senate Bill 458 protects short sale sellers from future deficiencies in all lien positions.
This whole situation reminds me of the television program, Undercover Boss. Have you ever seen it? In it, CEOs of big corporations (such as NASCAR, DirecTV and even Hooters) go undercover and get a real world picture of the daily operations of their corporations. It's not surprising that some of these CEOs do not have lots of success flipping burgers or picking up trash. But, can the CEOs at big banks correctly process a short sale? Now, that I've gotta see.